Research About Children's Health and Well Being

Putting Children First:

Scenarios for the Future of Children's Health and Well Being in the U.S. (2013)
In July 2012, about 350 philanthropists and child health experts congregated in Aspen, CO, for The Aspen Children's Forum: Investing in Children's Health and Well Being. This first-of-its-kind gathering focused on the provocative question, What role can we play in facilitating the transformation of the health and well being of children in North America over the next 20 years?
A key organizing device for the forum was the use of scenario planning to imagine various possible societal and economic futures. This report documents how the scenario work evolved, and the key recommendation that resulted from the forum: we need to launch a national children's advocacy movement unlike any that has been attempted before.
---
California's Diminishing Resource: Children (2013)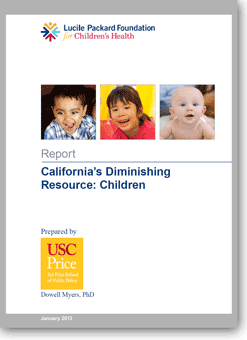 California's most valuable asset for a flourishing future is its children. After decades of burgeoning population and economic growth, however, the state now faces a very different prospect. This report provides a summary of California's demographics based on the most recent census data, and finds that dramatic changes are under way among California's children. Growth trends have shifted and children's life circumstances have been altered in significant ways. The most salient finding is that children have been declining in number, concentrating initially under age 10 but now spreading to all those under age 18.
---
How Do CA Parents Say Their Kids Are Faring?
See Data From New Statewide Survey (2010)

Results from a wide-ranging survey that asked California parents how they view their children's health and well being provide a wealth of current data that can inform and support the work of organizations across California that serve kids. Some data from the 2010 California Parent Survey now are available on kidsdata.org, and more will be added to the site in the coming months.
---
First-Ever CA Index of Child Well Being Reveals Decade of Improvement, but Economy Threatens Gains (2009)

The first-ever "California Index of Child and Youth Well Being" shows a consistent pattern of improvement in how children have fared over the last decade, but warns that the present economic recession could undermine and possibly even reverse those gains. The index is based on data from kidsdata.org, which recently expanded to offer data on children's health and well being for all cities, counties, and school districts in California.
---
The Positive Impact of Social and Emotional Learning for K-8 Students (Dec. 2008)

The Lucile Packard Foundation for Children's Health and the Preteen Alliance commissioned the Collaborative for Academic, Social, and Emotional Learning (CASEL) to synthesize the research on effective strategies to promote social and emotional skills among elementary and middle school students. This report summarizes the impact of social and emotional learning (SEL) programs on students, based on a review of 317 studies that involved more than 320,000 children. Findings show that SEL programs yielded multiple benefits and were effective in both school and after-school settings. The addendum to the report examines emotional health problems, as well as risk and protective factors, among students in California, with an emphasis on San Mateo and Santa Clara counties.
---
County Reports on Children (2007)
The Foundation has been a primary supporter of reports in San Mateo and Santa Clara counties that track indicators of children's health and well being.

San Mateo County Children's Report 2007
Santa Clara County Children's Report 2007
---
Bay Area Parents Concerned About Kids' Emotional Health (2007)
For the second year in a row, Bay Area parents have put their children's emotional health at the top of their worry list, highlighting a less-recognized yet crucial aspect of children's well-being. In a wide-ranging survey, parents across economic, geographic and racial/ethnic lines indicated that on a day-to-day basis stress, depression, weight, and the fallout from family conflict outrank other concerns about their children's health.
---
Bay Area Survey: Children's Health Top Concern (2006)
The well being of children and education and the schools outrank 11 other issues as chief concerns for local residents, regardless of their parental status, gender, ethnicity, income level, or political affiliation. More than seven in 10 Bay Area respondents (71 percent) report being "extremely concerned" about the well being of children, according to a survey commissioned by the foundation.
---
Children's Dental Health: The 2007 Check-Up for Santa Clara & San Mateo Counties
The evidence is in -- dental disease is the single most common chronic childhood disease in California. Awareness of the pervasive and often devastating effects of this preventable disease in children is growing. New data, new programs, and -- most significantly -- new legislative mandates are building the momentum to address this crisis statewide and locally.
---
Supporting Cultural Competency (2006)
The foundation's information and grantmaking programs offered a workshop on cultural competency in December 2006. The event featured a panel of experts and included an issue brief developed by California Tomorrow about how organizations can become culturally competent, as well as a list of resources for cultural competency.